---
Liberty Ships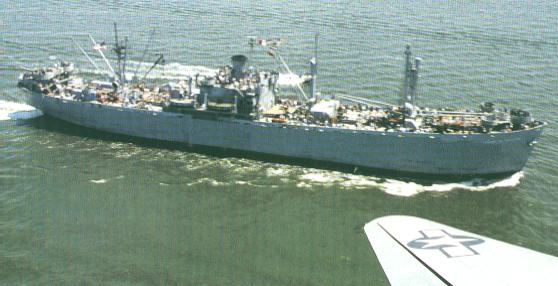 Liberty Ship Sailing into Cleveland: On July 29, 2000, the Liberty Ship, John W. Brown, sailed into Cleveland Harbor for a day cruise. Pictures of the ship and cruise will be posted soon.
Some facts about the Kaiser built Liberty ships:
Kaiser shipyards in Vancouver, Washington and Richmond, California produced these 10,750 ton cargo vessels from late 1940 through 1945, and 2751 were produced.
The record for production goes to the Richmond yard #1, where on November 12, 1942, the Robert E. Peary was constructed in four days, 15 hours and 30 minutes, a record that still stands.
To commemorate the building of Liberty and Victory ships silk banners were given to employees.
Liberty ship engines weighed 140 tons and were oil fired triple expansion steam engine designed at the turn of the century. The engine room scenes in the movie Titanic were filmed in the engine room of the Jeremiah O'Brien. To make the engines seem even larger, all the railings for the movie scenes were replaced with ones half their original size.
An extra 10 feet was added to the keel of the Liberty ship design and the Victory ship was born.
Liberty and Victory ships were manned by the Merchant Marine, a group of volunteers who's pay stopped the minute they stepped, (or were torpedoed), off the ship, and who's medical care stopped 90 days after hospitalization. The worst loss of life aboard a Liberty ship occured when the S.S. Paul Hamilton with 504 troops and 8000 tons of ammunition was destroyed in an attack off North Africa.
---
<![if !vml]>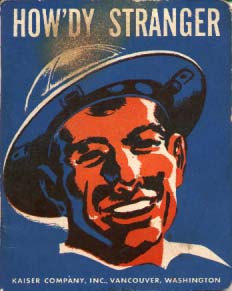 <![endif]>When a new employee joined the Kaiser Shipyard, they were given this booklet that explained their job, the work rules, pay scale and even the various accomodations available for company employees. By the way, female shipbuilders were encouraged not to wear high heels to work!
To get to and from their homes, many of the shipyard workers had to take the ferry across the bay to get to work. They were issued these tokens to use in lieu of money. They were issued by the United Sates Maritime Commission to the Kaiser Company in Vancouver.
---
Only three Liberty and Victory ships remain today. The Victory ship SS Lane Victory, and the Liberty ships Jeremiah O'Brien and John W. Brown are all that remain of a once proud fleet. Many of these ships were sold to foreign companies after World War II and served many years as cargo ships, eventually facing the scrap dealer's torch.
The Jeremiah O'Brien steamed to Portsmouth, England for the 50th anniversary reunion of D-Day on June 6th, 1994, where it was met by the President of the United States.

The official seal of Kaiser Company, Inc, Vancouver, Washington.
Return to main page.
This Page Last Updated on: August 9, 1945
Copyright©JL Productions
-11192000-